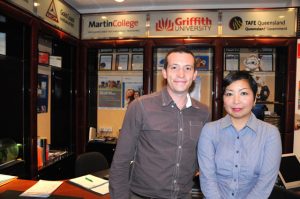 Sea Education was created in 2003 by Paul Markum and Sanae Fujimoto to assist and support international students coming to study in Australia.  Both Paul and Sanae have lived locally on the Gold Coast for over ten years and specialize in education for international students in Queensland and throughout Australia.
After growing up in the suburbs of Perth, the capital city of Western Australia, Paul moved with his family to Melbourne where he completed his education and was involved in the sport of springboard diving.  In 1998 Paul moved from Melbourne to the Gold Coast and began working in the hospitality and duty free industry, before beginning work at an international hotel on the Gold Coast.  Often having interaction with Japanese customers both at work and socially, Paul began to study Japanese in his spare time and 12 years later, Paul now speaks fluent Japanese as well as English.
Before beginning Sea Education with Paul in 2003, Sanae Fujimoto came to Australia as an international student from Japan.  When first arriving in Australia, Sanae stayed in home-stay accommodation before going on to live with other students in share accommodation on the Gold Coast.  Sanae studied a Diploma of International Business at Gold Coast TAFE.  After completing her studies, Sanae began work as the International Student Co-ordinator for a college on the Gold Coast, handling student enrolments and assisting international students at school. 
Every day at work Sanae had the opportunity to talk to and interact with students from all over the world and though Sanae enjoyed her job, she soon came to realise that the level of service that some international students were receiving from their' agents was far from good. 
It was from here that Sea Education was created to offer a higher level of service and support for International students coming to study in Australia. 
For over 10 years, Sea Education has worked together with many of Australia's leading English language schools, vocational colleges and universities and has assisted students from over 20 countries throughout the world to come to Australia to study.  By having over 10 years of experience, as well as local and international knowledge, Sea Education is able to offer international students the highest level of service, advice and support when coming to study in Australia. 
Unlike some other student agents that may charge an extra fee for their' enrolment assistance and support service, since 2003 Sea Education has offered a high level of professional and personalised service to all of our' members for free.  All international students that enrol into study in Australia through Sea Education will receive free enrolment assistance and a free support service for the duration of their' studies.
Sea Education is able to offer this service for free because we work in conjunction with some of the largest and most well respected English schools, vocational colleges and universities in Australia.  We work together with the schools to represent and market them in a professional and ethical manner and to assist students who are interested in coming to Australia to study.  By having such a close professional relationship with our' educational partners, Sea Education is able to offer international students the best possible assistance and support service, and we are able to offer this service for free.
In 2013, Sea Education merged with Nichigo Support Services, an International student agency established in 1996 in Melbourne, Australia. With their strong relationship with colleges and universities in southern Australia including Victoria, South Australia and Tasmania, Sea Education has become a more Australia wide agency, now with 20 years of experience. Sea Education will continue to grow bigger with the same policy that is our members receive our enrolment assistance and support for free of charge.
The Sea Education Office
The Sea Education office is conveniently located in central Surfers Paradise on the Gold Coast in Queensland, Australia.  It is from our' office on the Gold Coast that we assist new students and support current students with their' study and day to day life in Australia. 
Students and Members do not need an appointment to come into the Sea Education office and talk with either Paul or Sanae.  Anyone can feel free to come into our' conveniently located office during office hours to ask some questions or to discuss their' educational plans with us.
For our' address and full contact details please visit the contacts page.