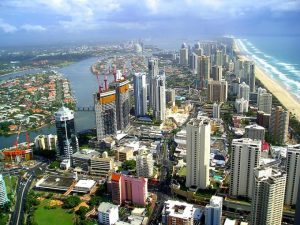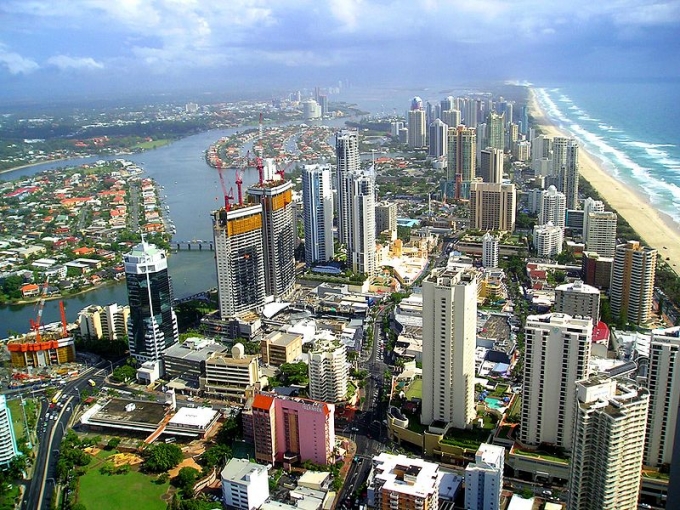 The Gold Coast is located on the East coast of Australia, in the state of Queensland and approximately 1 hour south of the city of Brisbane. With a population of just over 500,000 the Gold Coast is Australia's 6th largest city and is the fastest growing region of Australia.
For international students and working holiday makers the Gold Coast is home to a wide range of English language schools, vocational colleges and universities approved by the Australian Government to teach courses to international students.
Perfectly positioned to receive some of the best weather Australia has to offer, the Gold Coast averages 280+ days of sunshine every year and with over 57 kilometres of white sandy beaches as well as World Heritage listed rainforests, the Gold Coast is a perfect location to study and enjoy the beauty that Australia has to offer.
Below is a table showing the average monthly temperature for the Gold Coast.
| | Jan | Feb | Mar | Apr | May | Jun | Jul | Aug | Sep | Oct | Nov | Dec |
| --- | --- | --- | --- | --- | --- | --- | --- | --- | --- | --- | --- | --- |
| Average Max (°C) | 28.7 | 28.6 | 27.8 | 25.9 | 23.7 | 21.6 | 21.3 | 21.9 | 24.1 | 25.5 | 26.6 | 27.8 |
| Average Min (°C) | 21.7 | 21.7 | 20.6 | 18.2 | 15.4 | 13.3 | 11.8 | 12.3 | 14.9 | 17.1 | 18.7 | 20.4 |
Source: www.weatherzone.com.au
For shopping and entertainment there are 5 major shopping centres located throughout the Gold Coast as well as 1 casino and 5 massive theme parks. The centrally located suburb of Surfers Paradise is also famous throughout Australia for its' vibrant nightlife and weekend entertainment.
Spending sunny afternoons at the beach, enjoying a BBQ with friends or visiting theme parks on the weekend, the Gold Coast is Australia's ultimate destination for a perfect combination of study and pleasure, offering international students and working holiday makers the chance to experience Australia and education at its' best.
Transportation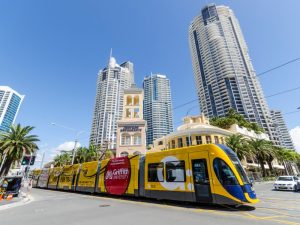 The Gold Coast has an international/domestic airport located in Coolangatta, on the Southern end of the Gold Coast and approximately 30 minutes from Surfers Paradise. The Gold Coast Airport has direct daily flight to and from Japan, Malaysia and New Zealand as well as most destinations within Australia. Brisbane International Airport is located only 1¼ hours north of the Gold Coast and has daily flights to and from most international locations as well as all major cities throughout Australia.
Once on the Gold Coast, the most efficient form of transport for students is the public tram service. The tram service runs from Broadbeach to Griffith University and is currently being extended to connect to the train service, which runs to Brisbane and the Brisbane airport. Trams run 24 hours a day over the weekends and between the hours of 5am and 11.30pm during the week. Gold Coast Trams are the only trams in the world designed with special surfboard racks for travelling with surfboards. Other areas of the Gold Coast have a regular bus service operating between the hours of 5.30am and 10.00pm and students studying full-time are able to receive a discount on public buses throughout the Gold Coast. Sea Education staff can offer students assistance with detailed bus timetable and pricing information on request.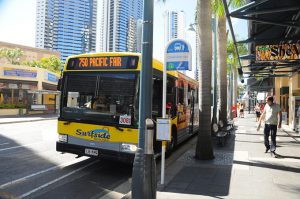 Many students living and studying on the Gold Coast often choose to live in and around Surfers Paradise and the surrounding suburbs. Students living in this area will have close access to most services and entertainment and will often choose to purchase a pushbike for local travel, occasionally using the public bus service when travelling further. Students who decide to purchase a car on the Gold Coast will normally have access to free parking at their' accommodation or close by.