For international students coming to study in Australia there are several different options for accommodation. Below is a brief description of the most common types of accommodation available for international students.
For further information on accommodation availability, pricing and other details, please contact Sea Education.
Home-Stay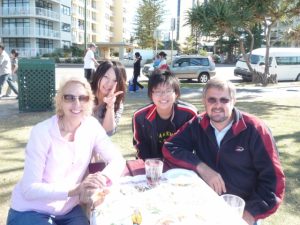 For many students coming to Australia for the first time, home-stay accommodation is a very popular option. Home-stay accommodation is normally pre-arranged for students before they arrive in Australia and students will always receive full details of the family they will be staying with, before they leave their' home country.
In home-stay accommodation, students will live with an Australian family and have the chance to experience an authentic Australian family experience.  Students will have their own bedroom in the family house and most meals, including lunch and dinner daily, will be provided by the family.  Laundry and, in some levels of home-stay accommodation, even transport to and from school each day is provided.  Depending on the location within Australia and the level of service requested, home-stay accommodation ranges in price from $200 to $260 per week.
Many students coming to Australia to study for the first time will choose to stay in home-stay accommodation for 2 – 4 weeks when they first arrive.  This short stay in home-stay allows students the time to adjust to life in Australia and to become familiar with the local area, public transport and points of interest.  After a short stay in home-stay, some students will choose to stay longer with their' home-stay families, while many other students will choose to move on and live in share accommodation.
Share Accommodation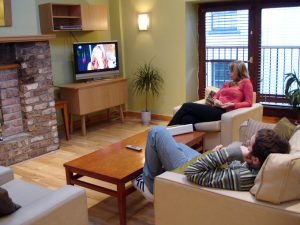 This is probably the most common type of accommodation for international students once they become settled in Australia and can be a very cost effective option when on a budget or just wanting to save some extra money. 
In most cases share accommodation involves 2 or more students living together in either a house or apartment and sharing the use of common areas such as the living room and kitchen.  Students will have the option of being able to share a bedroom with another student, or working holiday maker, or choose to have their' own private room.  Sharing a bedroom will generally be a bit cheaper, but will not suit all students' needs.  Depending on the particular house or apartment, bathrooms can also be either shared or private.  All share accommodation is different in some way and students are advised to visit several different share options before making a decision upon where to live. 
Share accommodation can be found in all cities throughout Australia and in some location there can be a great range of options for students to choose from.  The easiest way to locate a "share house" is by checking local student and accommodation notice boards, or more recently by checking certain social networking sites. 
The price of share accommodation ranges from $90 – $160 per week and will vary depending on factors such as if students choose to share a bedroom or have a private room, the location of the share house and the facilities available (swimming pool, spa, gym, etc.).  Students living in share accommodation will normally be responsible for purchasing their' own food and personal items, but this can vary and it is always best to ask as many questions as possible and check all of the details before making a decision to move in.
For students that choose to live in share accommodation with other international students that don't speak the same language, it can also be a great opportunity to practice English through conversation.
Backpackers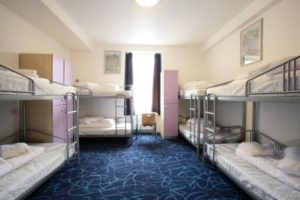 Many students coming to Australia on a tight budget will choose to book into accommodation at a conveniently located backpackers for 3-5 days when they first arrive in Australia. During this time students are able to check local student and accommodation notice boards to find several different share houses that they are then able to go and inspect. If a student is able to decide and move into a suitable share house soon after they arrive, they may also be able to receive a refund from the backpackers for the remaining nights paid for but no longer needed.
A short stay in backpacker accommodation when first arriving in Australia can be a very cost effective option for students and can also be an opportunity to meet other students and travellers from around Australia and the world.
Rental Accommodation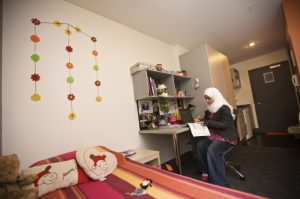 Some more confident international students will choose to rent their' own apartment or house in Australia. This is a more expensive and complicated option, however it does offer a more private and secure accommodation option for determined students.
Renting an apartment or house will involve applying for and signing a rental contract with a real-estate agent or building manager, to rent an apartment or house. This contract is normally for a period of between 6 months and 1 year, and when renting an apartment in many cities in Australia, students will have the option of being able to choose from furnished or unfurnished apartments. Furnished apartments will normally be a slightly more expensive option but are definitely an easier and more convenient choice for many students.
Rental accommodation can range in price from $200 – $500 per week and electricity is normally paid separately and in addition to rent. All people signing a rental contract will also be required to pay a refundable security bond when moving into a rental property. This bond will be refunded to the student at the end of the contract as long as the property is left clean and undamaged.