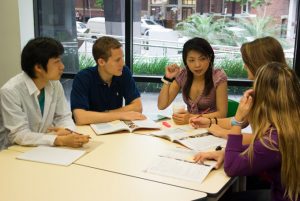 Most students coming to Australia to learn English will begin by studying in a course in General English. This course will teach students the basics needed to be able to achieve their' goals in the English Language. After a course in General English many students will go onto study other English language courses such as Academic English, Test Preparation courses and Business English courses. These more advanced courses offer students the chance to improve and widen their' English skills further and also allow students to concentrate on specific forms of English more relevant to a students' particular needs.
International students have the option of being able to study English full-time or part-time, with some schools also offering students options for studying English in the evenings or via a "ticket system".  Students studying English full-time will study between 4 and 5 hours per day and will attend classes 5 days per week, Monday through to Friday.  Studying part-time, students will study 3 hours per day over 5 days and will have the option of studying in either morning or afternoon classes.   
These extra options allow students the flexibility to be able to study English and work at the same time.  For others, these options allow students the time to go surfing or go to the beach before starting school, or to finish school early and have a relaxing afternoon.  There is an English school and an English option to suit every student's budget, schedule and requirements.
General English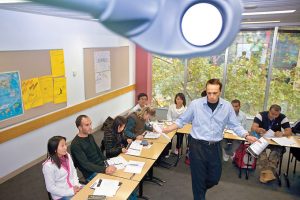 General English is the starting point for almost all students coming to study in Australia. Within a General English Course students will learn the very basics of English grammar, pronunciation and vocabulary and have the opportunity to improve and practice conversation skills. Students will also learn English for use in situations such as job interviews, telephone conversations and general day to day activities.
In certain General English Courses students will also be able to choose particular lessons throughout the week that concentrate on a particular skill area they are interested in or are having difficulties with. These "elective classes" can include:
Conversation classes
Pronunciation classes
Practising listening skills
Test preparations classes
Most English schools offer between 4 and 6 levels of General English classes for international students, beginning at the elementary level and continuing through to the intermediate and advanced levels.  Many students reaching the upper intermediate or advanced level in a General English course will often go onto further study at college or university in Australia or onto study in a more specialised English course.
Academic English or EAP (English for Academic Purposes)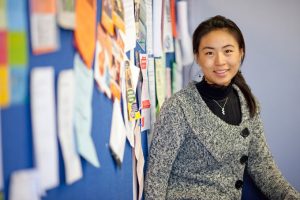 Academic English or EAP courses are designed for students who have plans to go on to further study at college or university in Australia. In most cases students will need to reach the intermediate level in a General English course before they are able to begin study in an EAP course.
EAP courses will concentrate on improving the reading and writing skills of students and will teach students a more academic vocabulary, along with other skills required for writing and preparing reports and assignments during future studies at college or university.   
Many EAP courses will also act as pathways for international students going onto further study at the college level in Australia.  These courses will allow students to gain direct entry into college in Australia without being required to sit an official IELTS English exam in order to meet the English language entry requirement.
IELTS Preparation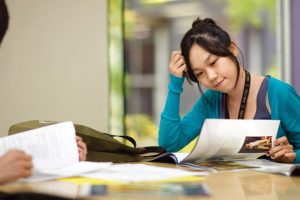 IELTS Preparation courses are designed specifically for students planning on sitting the IELTS exam. This exam is used by many students to gain entry into courses at college or university in Australia. For students from certain countries, this test is also a requirement to be able to apply for certain types of Australian visas.
IELTS Preparation course students will be taught the structure and content of the IELTS exam as well as the best way to complete the exam under test conditions.  Students will also learn "test secrets" that will be of great benefit, as well as being able to complete "practice" IELTS exams that will be assessed by the teacher.  As well as learning from these practice exam completed during the course, students will also benefit by being able to feel much more confident and comfortable when sitting the official IELTS exam for the first time.   
For any students planning on sitting the IELTS exam, Sea Education highly recommends first completing an IELTS Preparation course in order to gain extra valuable knowledge and practise that will be of great benefit to students during the official exam.
Cambridge English Exam Preparation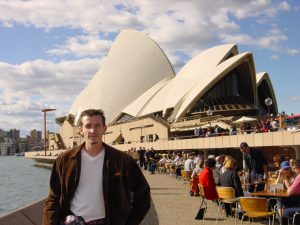 Cambridge English courses are very well known and recognised throughout Europe and are becoming more and more popular throughout Australia every year. These courses are designed to teach students a very usable form of English for use in everyday life and while travelling and working in English speaking countries. Cambridge English Certificates are highly recognised by employers, colleges and universities throughout Europe.
There are 6 levels of Cambridge courses available, however only 2 of these levels are commonly offered by schools in Australia.  The 2 most commonly run Cambridge English courses in Australia are the FCE (First Certificate of English) and CAE (Cambridge Advanced English).  
The English entry level for both of these courses is quite high and will require students to be at the upper-intermediate level of English for the FCE course and at the advanced level for the CAE course.  Cambridge courses are 10 to 12 weeks in length and have 3 in-takes per year, with start dates in January, April and September.  Cambridge English Exam Preparation Courses are run in conjunction with the Cambridge Exam, which is held 3 times per year at the end of each course. 
TOEIC Test Preparation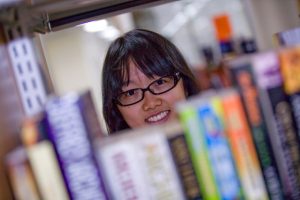 TOEIC Test Preparation courses are designed for students that are planning on sitting the TOEIC test. This test is very popular with employers and employees in both Japan and Korea, and for this reason most TOEIC test preparation students are generally from these 2 countries. Students will often use the results from the TOEIC Exam on resumes in their' home countries in order to demonstrate their' level of English to potential employers and assist when applying for work.
During TOEIC Test Preparation courses students will be taught the structure and makeup of the TOEIC test as well as the recommended method for completing the test under test conditions. Possibly more importantly however, students will be able to sit "practice" TOEIC tests throughout the course and have these tests assessed by the teacher. These "practice" tests will help students and teachers to pinpoint exactly which areas of the test a particular student needs extra attention on and will help to improve these areas through practice and concentrated study.
Business English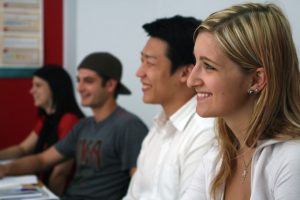 Business English studies are designed for students who have future plans to work in, or run a business where English is an important part of the workplace environment. Business English courses will give students the skills and ability required to be able to confidently use English in a wide variety of business situations and give students the confidence to venture into new environments and open up new opportunities.
Business English courses will teach students English for a range of business situations including correct and polite telephone manner, English for conducting meetings and general office duties, as well as how to read, understand and complete business forms and paperwork.
Students will normally be required to have an intermediate level of English before they can begin studies in a Business English course.
University Direct Entry Programs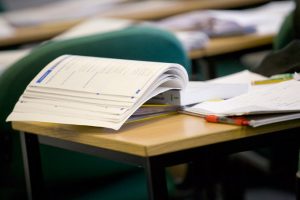 University Direct Entry Programs are designed for students planning on going onto further study at university in Australia, but who do not yet meet the English language requirement for entry, and do not want to sit an IELTS exam. These programs have a very high English entry level requirement and in most cases are offered only at English Schools attached to, or run in conjunction with universities.
University Direct Entry Programs are generally 10 weeks in length and are designed to finish 2 – 4 weeks before the beginning of a new university semester. This allows students to complete their' English studies and to have a short break before beginning study at university.
High School Preparation (HSP)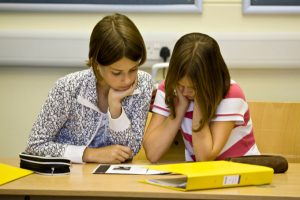 High School Preparation or HSP courses are designed for younger students who will go onto to study at high school in Australia. Entry into HSP courses is restricted to children between the ages of 12 and 17 and these courses will combine specialised English lessons with basic academic studies from the Australian high school curriculum, including maths and science as well as other core subjects.
High School Preparation students will also have the opportunity to experience high school life in Australia before actually beginning study at high school. English schools offering HSP courses will run certain classes and group activities in conjunction with carefully selected local high schools, allowing High School Preparation students to gain a more realistic insight of study at high school in Australia before they actually begin their' first day.